Experiencing Northern Ireland's capital Belfast, a renewed city
I've been so busy that it's hard to believe this is my first blog post in a couple of weeks. A lot has happened in those few weeks. There are three blog posts I have lined up over the next week or so – one will discuss my visit to Belfast last weekend, one will discuss campus life in Limerick and how it compares with Bathurst and one will look at my visit to the Irish National Stud on the Sunday just passed.
I think it's fitting to start my Belfast article by describing the reactions I had from people when I told them I was going to the capital of Northern Ireland. They ranged from "why would you want to go to a war zone?" to the standard "you'll get blown up by the IRA!" Pretty much, for those that don't know better, there is still the impression that Northern Ireland is plagued by internal fighting. I can assure you – the Good Friday Agreement of 1998 ended the period in Irish history known as The Troubles. Now, Belfast is one of the safest cities in the United Kingdom.
The idea of being on the same island, but passing into a different country, was foreign to me. Indeed, there were no border controls between the Republic of Ireland and Northern Ireland, controlled by the United Kingdom. The only way I knew that we had crossed the border was that my phone switched into global roaming mode. Crazy, right?
We stayed at a hostel about 20 minutes walking time from the centre of the city. It was an interesting experience. The sink smelled like something had died in there and the rooms were incredibly cold. But at least I was with quite a few people I knew – most of you will know my Bathurst buddy Sophie, we've made the trip over here together. Also in the six person room were Cassie and Tim, both from Illinois, Angie from Pennsylvania and Katie from Wisconsin.
Angie and I
Cassie and Tim
We arrived into Belfast about 9pm, but it was instantly agreed that we should head out to the nearby university bar. This was one of the weirdest nights out I've experienced. It was freezing outside, hence why you'll see me rugged up in the pictures below. And this bar played the weirdest music I've ever heard at a club. The ONLY "mild" song they played was Somebody That I Used To Know, the rest were hard rock or heavy metal songs. It allowed me to take a great photo of Cassie though, head banging to a System of a Down song:
The best part of the night is that we came away with some good photos! Here are a selection of them:
Saturday morning, we were up bright and early for a trip to the famed Giant's Causeway. Declared a World Heritage Site in 1986, it is an incredible natural wonder. It was an hour's bus ride from the hostel in Belfast.
Don't get me wrong, it is absolutely stunning and I recommend everyone make a visit to the basalt columns. However, my experience was tainted by a number of events. Firstly, my phone died soon after leaving the Giant's Causeway, erasing all photos I took at the site. Luckily, my visit was captured by other cameras. The phone died inexplicably, it had nothing to do with water damage, it just simply stopped working. Secondly, I've never been more wet in my life. It poured with rain, which was closer to hail than raindrops! There were gale-force winds. And it was unbearably cold. It was not a good combination, and it was no surprise that a number of people on the trip developed colds when they arrived back in Limerick.
But look, there was nothing that could take away from the beauty of the Giant's Causeway. The only recommendation I'd make is to go later in the year, when it may be marginally warmer! Here were some of the pictures (unfortunately I took only one of them – the one of Tim and Angie in the distance!):
Upon arriving back in Belfast, I decided to go out and buy new clothes – pretty much all the clothes I'd brought with me were wet from the Giant's Causeway! It was good to go shopping though, I honestly don't think I've enjoyed shopping as much as I did that day in Belfast.
The plan was to spend the night on the town. In the end, we only managed to get to one bar – Lavery's. There was a nightclub upstairs and a pub downstairs. We started in the pub, intending to make our way up to the nightclub, but while Sophie, Cassie and Angie made it upstairs, we were too late and it was full when we went to enter. It was a good chance to meet some other international students, and I met some amazing people at the pub. I made two more "Wisco" (ie Wisconsin) friends in Sam and Riley. I now have a place to stay if I ever end up in that part of the world! Furthermore, Alek from Chicago and Eric from Stockholm were two interesting characters I met along the way. I thoroughly enjoyed singing Hotel California aloud with Alek…
Actually, my proudest moment came when the DJ played Down Under. That song really does mean so much more when you are one of the only Australians in a bar full of foreigners! Once again, what made the night special was that we got plenty of photos!
So it's fairly amazing, we'd spent 36 hours in Belfast and hadn't even delved into the history of the city. This changed on Sunday morning when we did a bus tour of the city.
At first the bus tour took us through the Irish side of Belfast – the home to all the nationalists who supported a united Ireland. This was the part of Belfast which housed the Provisional IRA, Sinn Fein, etc. What I found amazing throughout the tour – in both the nationalist and unionist areas – was the wall paintings which were kept in pristine condition. Many are memorials to those who died during the Troubles. Unfortunately, due to the weather and my camera issues, we didn't get too many good photos. So I've taken some off Google to give you an idea.
Here were some from the nationalist side: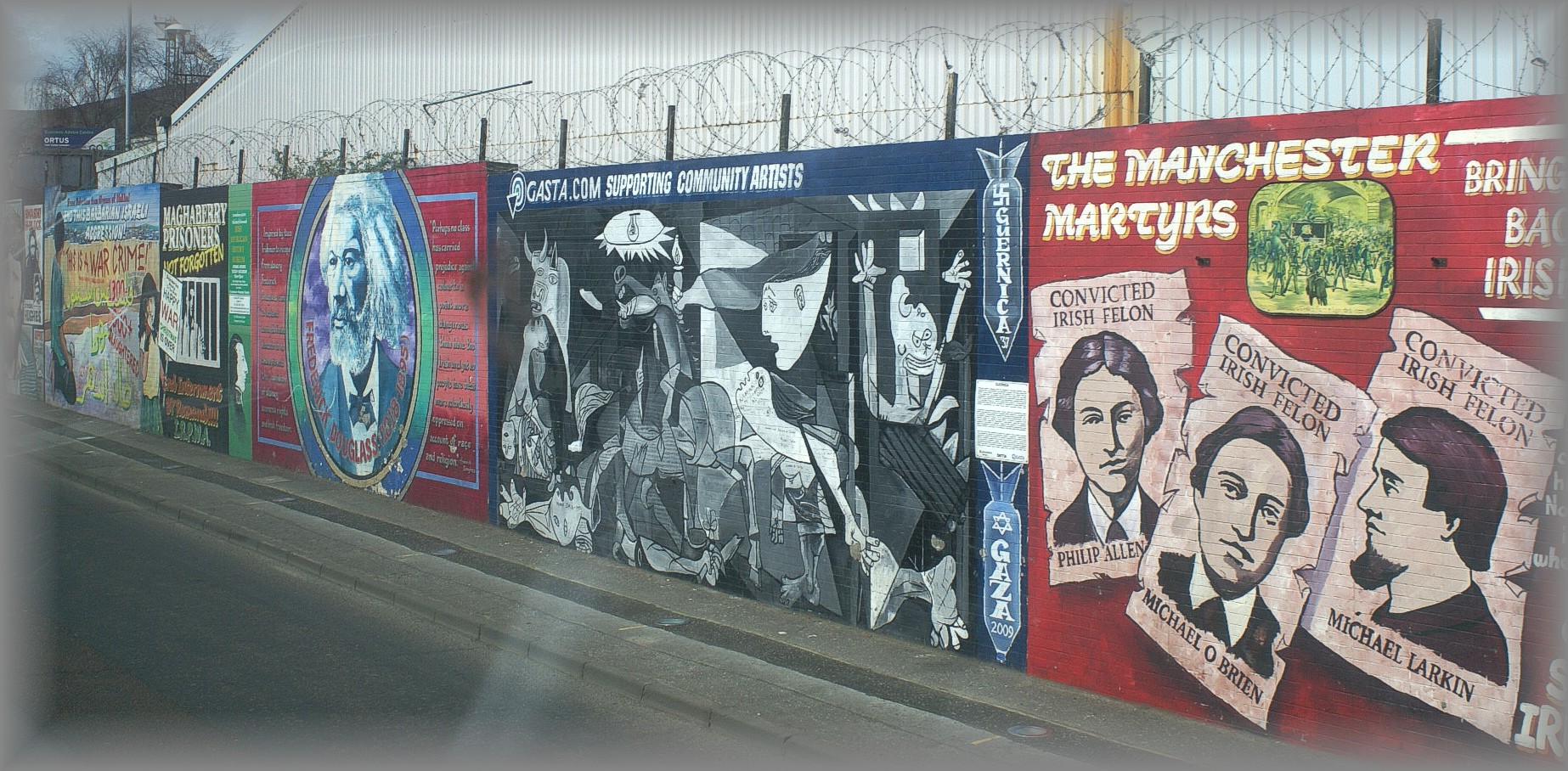 The story of Bobby Sands, which I learned in school, was quite sad – although depending on which side of history you stand on, you may say he got what he deserved. An IRA member, he was jailed and claiming political status, he and a number of other "political prisoners" started on hunger strikes. In the interim, Bobby Sands was elected to the British House of Commons. He eventually died a couple of months after beginning his hunger strike. The above mural commemorates Sands.
It was the same on the Unionist, or Loyalist, side. Best known as Shankill, it is an area with a rich British history. In fact, some streets I recognised from footage I had seen of violence in Belfast. There were a number of murals on the Loyalist/Unionist side too (these are also from Google Images):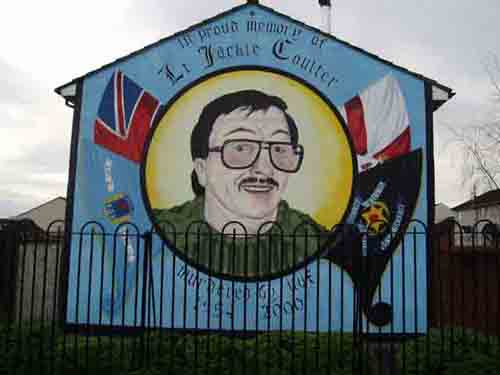 It was quite surreal to be on the streets of Belfast, seeing this area where so much fighting had taken place. In high school, modern history was my best subject, and a large part of my final year was filled with studying Northern Ireland. I have to admit, at the time I couldn't relate to the issues in Northern Ireland. But having seen where it took place, I already have a better grasp on The Troubles. It would be interesting to be able to chat to my Year 12 Modern History teacher now, Mr Ussher, about Belfast – but last I heard he was in Walcha, in country NSW!
The most humbling experience of the trip was to see the Peace Lines around Belfast. The wall we were at separated the nationalist Falls Road from the loyalist Shankill Road, and was the scene of much of the violence during that turbulent period. There are messages of peace from tourists all over the world:
Following the Peace Wall, we travelled to the Stormont Building, the home of Northern Ireland's parliament. It was an incredible building, almost palatial, and it was a great spot for photos:
We saw some other amazing places in Belfast. Two that stand out are the Harland and Wolff Shipyard, where the Titanic was built, and the Belfast City Hall – which for some reason just appeals to me! Here they are below:
And so that was Belfast! We limped into Limerick that night exhausted – but it was a very intriguing trip, one which has whetted the appetite for further travel!
Hopefully it won't be another two weeks before my next blog post!